Mobile Podiatrist for Elderly
Residents in Assisted Living and Nursing Home Facilities
Specializing in Geriatric, NON-Surgical and Diabetic Foot Care.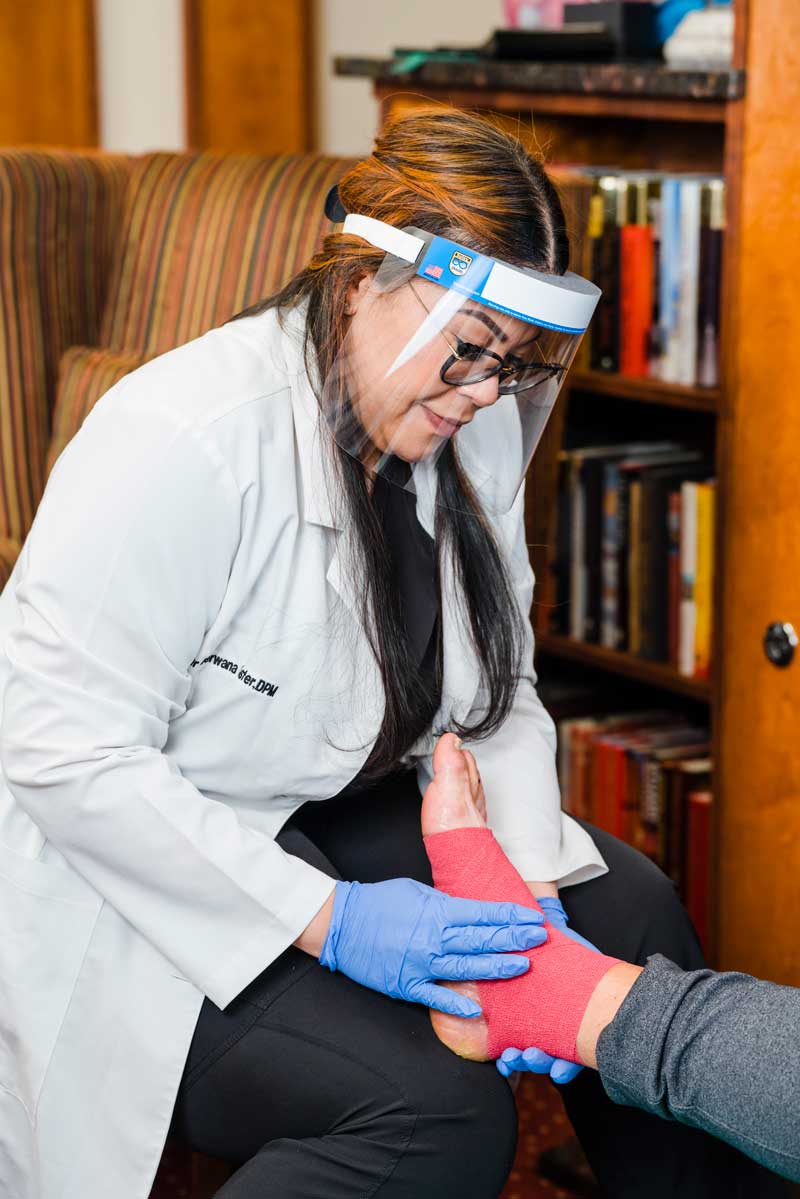 We offer a wide range of holistic, individual services including comprehensive evaluations and exams, diagnosis and treatment of foot disorders, continuity of care, treatment of acute foot problems and wound care management.
Known as the "Queen of Feet"
Dr. Laster's passion is providing quality foot care to her patients in the geriatric community.
Feet move us through our lives proceeding regardless of the opposition. They make a journey of great adventure, difficult adversity and tremendous triumph. Caring for your loved one's feet must be done in a dignified manner that shows appreciation and respect for the magnitude of the task those feet have undertaken.
Unlike big corporations, We Heel The Sole Podiatry will always provide a family feel and one-on-one interaction with each and every patient. Dr. Laster strongly believes in building relationships and providing a personal touch.
She specializes in on-site podiatric services for nursing homes, assisted living centers, memory care centers and senior communities in the Indiana, Tennessee, Illinois and Missouri areas.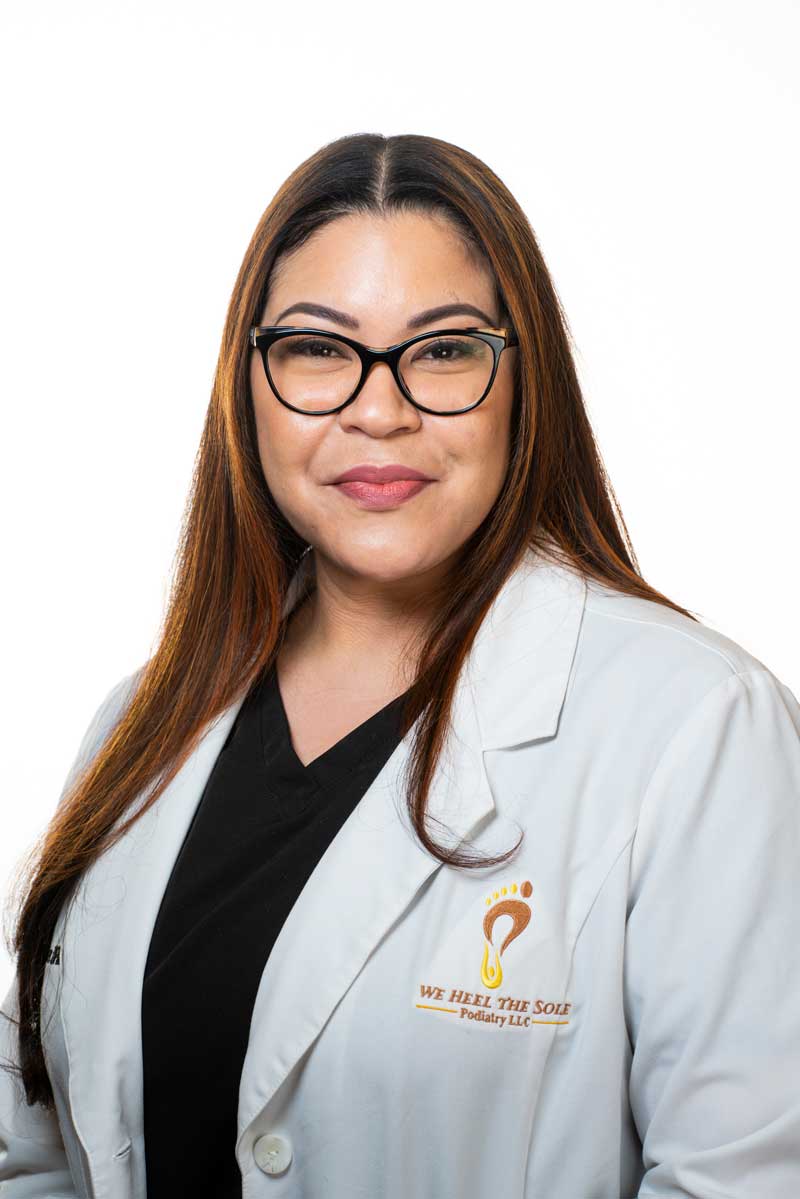 Call or Text for More Information
We welcome the opportunity to visit your facility and speak with you about the programs and services offered that will benefit your residents.
Important: We currently only provide services to those actively enrolled in Medicare and Medicaid.
Frequently Asked Questions
What is a Podiatrist?
Simply put, a Foot Doctor!
A podiatrist, also called a doctor of podiatric medicine, is a specialist who provides medical diagnosis and treatment of foot and ankle problems. This includes but is not limited to sprains and fractures, bunions, heel pain, heel spurs, hammertoes, neuromas, ingrown toenails, warts, corns and calluses.
A podiatrist cares for infections and injuries of the foot, ankle and heel.
Is a Podiatrist a real doctor?
Yes! Podiatrists are required to take state and national exams and must be licensed by the state in which they practice. In addition to undergraduate medical school training, podiatrists also attend medical school for a doctorate degree in podiatry.
What information do I need to make an initial appointment with We Heel The Sole Podiatry?
Patient's first and last name 

Date of birth 

Full address and phone number for contact

Insurance information, including any supplemental insurance information. 
How are clients billed?
We Heel The Sole Podiatry bills and accepts assignment from private insurance companies, Medicaid and Medicare on behalf of the podiatrist. 
Medicare: 
We Heel The Sole Podiatry accepts Medicare Part B and supplemental secondary insurance. This means that we will bill Medicare directly (NEVER the patient) for our services. 
Insurance card(s) MUST be presented during the first visit.
Does Medicare cover Podiatry services?
Medicare will cover podiatry services once every 61 days if your condition meets Medicare guidelines.
Who will be caring for my account?
Dr. Jerwana Laster, DPM personally attends each client.

Clinical Assistant- Assists Dr. Laster on-site with any paperwork, scheduling, follow-ups, etc. 

Office Manager- Handles all resident facility accounts, client services, monthly scheduling, etc. 
Do you provide home visits?
No, Dr. Laster does not provide home visits.  She is only able to see clients in assisted living and nursing home facilities.
What foot conditions do you treat?
Dr. Laster is equipped with all of the necessary instruments to handle most every condition seen in an office practice. She can order x-rays, bacterial cultures, vascular recommendations and schedule wound care consults. She works closely with nursing staff and Primary Care Physicians to best serve the needs of each client.
Regular visits ensure the proper care for each of the following conditions and more.
Foot Infection

Fungal Toenails

Foot Fungus / Athletes Foot

Foot Corns / Calluses

Cracked Heels

Warts

Ingrown Toenail

Hammer Toes

Bunions

Diabetic Neuropathy

Early Identification of Ulcerations, Abscesses and Subungual Hematomas

Foot Trauma
Relates to each patient on a personal level and maintains the trust that our patients need and deserve.
Pam Deaton, Ward Clerk
Manderley Health Care Center
She is kind and comfortable with the residents, and is the preferred provider!
Mardah Michlow, BSW
Wildwood Health Care Center
Comes completely prepared to see each and every resident on time, and leave the place clean!
Denise Mirro
Northridge Gracious Retirement
She is detail oriented and she welcomes challenges!
Karletta Harbin, LPN
Grand Brook Memory Care
Mrs. Reese
The Rutherford
I feel like I have a new pair of feet
Mr & Mrs. Bledsoe
American House Kingsport
Feels like I'm walking on a cloud
Mrs. McCarthy
Hamilton Reserve
Always professional, on time, and the residents love her!
Freida Carrier, SSD
Signature HealthCare of Elizabethton